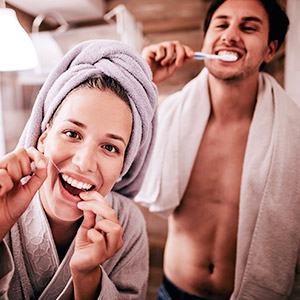 If you like conundrums like "Which came first? The chicken or the egg?", then you may enjoy this one: "Which should you do first, brush or floss?"
Both of these oral hygiene tasks are equally important for removing dental plaque, a thin bacterial film that forms on teeth after eating. Removing plaque on a daily basis minimizes your risk for developing tooth decay or periodontal (gum) disease, the top causes for tooth loss. Brushing removes plaque from broad tooth surfaces, while flossing removes it from between teeth where brushing can't reach.
There is wide consensus that you need both brushing and flossing to thoroughly remove plaque. But there is a debate over which of these two tasks you should do first for the most effective outcome. Those debates are more or less good-natured, but there are proponents on both sides on which task should come first.
Those on the "Brush First" side say brushing initially gets the bulk of accumulated plaque out of the way. If you floss first, you may be plowing through a lot of soft plaque, which can quickly turn your floss into a gunky mess. More importantly, you may only be moving plaque around with the floss, not actually removing it. By brushing first, there's less plaque to deal with when flossing.
"Floss First" folks, though, say flossing before you brush loosens plaque stuck between teeth that can be more easily brushed away. But perhaps a more important reason is psychological: People don't really like flossing as much as brushing. Because of this, putting it off to the end may mean it doesn't happen; doing it first will help ensure it actually gets done.
In the end, though, the order you perform these tasks comes down to personal preference. You can try both ways to see which one suits you best. The important thing, however, is that you do both tasks—if you do, you can greatly lower your risk of dental disease that could rob you of your teeth.
If you would like more information on effective oral hygiene, please contact us or schedule an appointment for a consultation. You can also learn more about this topic by reading the Dear Doctor magazine article "Brushing and flossing: Which Should Be Done First?"