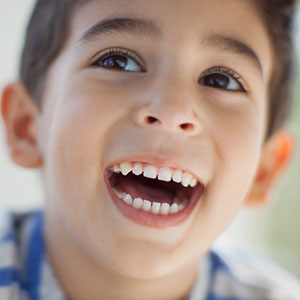 Ask any kid and they'll tell you just how valuable "baby" teeth really are—out of the mouth, of course, and under their pillow awaiting a transaction with the Tooth Fairy. But there's more to them than their value on the Fairy Exchange Market—they play a critical role in future dental health.
Primary teeth provide the same kind of dental function as their future replacements. Children weaned from nursing can now eat solid food. They provide contact points for the tongue as a child learns to speak. And they play a role socially, as children with a "toothsome" smile begin to look more like what they will become when they're fully mature.
But primary teeth also serve as guides for the permanent teeth that will follow. As a future tooth develops below the gum line, the primary tooth preserves the space in which it will erupt. Otherwise, the space can be taken over by other teeth. This crowds out the intended tooth, which may erupt out of position or remain impacted below the gum line.
In either case, the situation could create a poor bite (malocclusion) that can be quite costly to correct. But if we can preserve a primary tooth on the verge of premature loss, we may be able to reduce the impact of a developing malocclusion or even prevent it.
We can help primary teeth last for their intended lifespan by preventing tooth decay with daily oral hygiene or clinically-applied sealants and topical fluoride. If they do become infected, it may be worth the effort to preserve them using procedures similar to a root canal treatment.
If a tooth can't be preserved, then we can try to reserve the empty space for the future tooth. One way is a space maintainer, which is a stiff wire loop attached to metal band bonded around an adjacent tooth. This keeps other teeth from drifting into the space until the permanent tooth is ready to erupt, at which time we can remove the appliance.
Your child may be anxious to get another tooth to put under their pillow. But helping that primary tooth go the distance will be more than worth it for their future dental health.
If you would like more information on the care and treatment of baby teeth, please contact us or schedule an appointment for a consultation. You can also learn more about this topic by reading the Dear Doctor magazine article "Importance of Baby Teeth."