Posts for tag: sedation dentistry
By Center For Cosmetic And Sedation Dentistry
May 06, 2021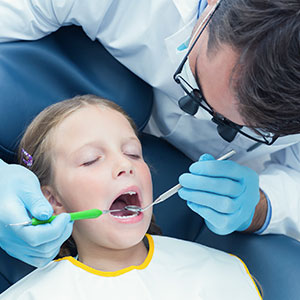 There are different ways to ease a child's potential nervousness with dental visits, like starting those visits around their first birthday or seeing a pediatric dentist who specializes in children. But even doing those things won't guarantee your child won't develop some form of dental anxiety, which could complicate their dental care.
To help make appointments easier for anxious children, many dentists use conscious sedation as a means of helping them relax. With this technique, the dentist administers a mild sedative to the child to take the edge off their nervousness, while allowing them to remain awake during treatment.
Sedation isn't anesthesia, the means we use to stop pain during treatment (although sedation may be used with anesthesia). Rather, sedation reduces emotional fear and anxiety. And unlike general anesthesia, a sedated child can still breathe without assistance and, depending on the depth of the sedation, respond to physical and verbal stimuli.
In most cases, children are administered sedation medications by mouth, usually as a syrup, although on occasion it might be delivered intravenously with an IV. The dose is usually given some time before their treatment session after the dentist has evaluated them. Dentists mostly use mild sedatives like Midazolam or Hydroxyzine with very little risk of side effects for children.
During the procedure, a designated staff member continually monitors the child's vital signs. Besides heart rate, pulse and respirations, they may also check the child's exhaled carbon dioxide levels to ensure they're breathing normally.
After the treatment session is over, staff will continue to monitor the child until their vital signs return to pre-sedation levels. If the child is of driving age, they'll need someone to drive them home. Children who've been sedated should remain home for the rest of the day, but they can usually return to school the next day depending on what kind of dental work they've undergone.
Dentists follow strict protocols for pediatric sedation adopted by the American Academy of Pediatrics, the American Dental Society, and the American Academy of Pediatric Dentistry. In addition, many states have also established processes for administering sedation therapy. It's a safe and effective method to ease a child's anxiety over their dental visit.
If you would like more information on making dental visits easier for kids, please contact us or schedule an appointment for a consultation. You can also learn more about this topic by reading the Dear Doctor magazine article "Sedation Dentistry For Kids."
By CENTER FOR COSMETIC AND SEDATION DENTISTRY
January 12, 2017
Although countless movies and comedy sketches throughout entertainment history have featured a scene involving a dentist's office,
laughing gas and the resulting hijinks, for people with phobias and extreme anxiety about going to the dentist, sedation is no laughing matter. According to industry statistics and estimates by the American Dental Association (ADA), as many as 30 to 40 million Americans (roughly 9% - 15% of the population) refuse oral healthcare and dental treatment out of fear and anxiety about going to the dentist, which can greatly increase the risk for tooth decay, gum disease and associated general health risks.
The dentists at the Center for Cosmetic and Sedation Dentistry in Lawrenceville, GA can help patients suffering with everything from mild anxiety to extreme phobias get preventive and general dental care in a calm and supportive setting.
Sedation Dentistry in Lawrenceville, GA
Sedation dentistry involves the use of medication to help ease anxiety and fear, as well as to help minimize any physical discomfort associated with the dental procedure. Many people are actually afraid of needles more so than the actual dentist, while others may go into emotional distress and panic just from sitting in the waiting room at a dental office, or at the sight of routine dental instruments.
Who Should Consider Sedation Dentistry
Adults who suffer from fear and anxiety around getting necessary dental work, or have a child struggling with the issue should speak to a dentist about the benefits of sedation dentistry. The Center for Cosmetic and Sedation Dentistry offers oral conscious sedation (meaning you'll be awake and alert for your treatment, you just won't feel anything) to address the most common dental anxiety issues.
Find a Dentist in Lawrenceville, GA
If fear and anxiety is preventing you or a member of your family from going to the dentist, the dental team at the Center for Cosmetic and Sedation Dentistry can help. For more information, call (770) 995-1957 to schedule an appointment today.