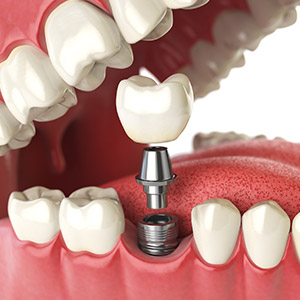 It's a common practice among people slowly losing their teeth to have their remaining teeth removed. They find dentures to be less costly than replacing one tooth at a time or caring for those that remain. On the other hand, it's usually healthier for the mouth to preserve remaining teeth as long as possible, replacing them only as necessary.
This latter strategy has up to now been difficult and expensive to achieve. But dental implants are changing that—using these imbedded titanium metal devices with a variety of restorations, we're able to better plan and implement staged tooth replacement.
Most people associate implants with single tooth replacements of a life-like crown cemented or screwed into an abutment attached to the implant post. This can play an early role in a staged replacement plan, but at some point, multiple single-tooth implants can become quite expensive.
Implants, however, have a much broader range of use. A few strategically placed implants can support a variety of restorations, including bridges and removable or fixed dentures. Four to eight implants, for example, can secure a fixed denture replacing all teeth on a jaw, far fewer than the number needed to replace the teeth individually.
Implants may also improve the function of traditional restorations. For instance, dentures can't stop the bone loss that often results from tooth loss—in fact, they will accelerate it as they rub and irritate the bony ridges of the jaw. By contrast, implants stimulate bone growth, slowing or even stopping the process of bone loss.
In a traditional bridge, the outer crowns of the restoration are bonded to the teeth on either side of the missing tooth gap (the middle crowns fill the gap). These support teeth must be permanently altered to accommodate the crowns. But an implant-supported bridge doesn't depend on other teeth for support, thus eliminating the need to permanently alter any teeth.
More importantly, previously placed implants often become part of the next stages of tooth replacement, like building on an addition onto an existing house. All in all, including implants in your ongoing dental restoration can help you enjoy the benefits of preserving your natural teeth for much longer.
If you would like more information on dental restoration options, please contact us or schedule an appointment for a consultation. You can also learn more about this topic by reading the Dear Doctor magazine article "Replacing All Teeth but Not All at Once."