ENDODONTICS IN LAWRENCEVILLE, BUFORD,DACULA & JOHNS CREEK GA
SERVING GWINNETT COUNTY
Root canal treatment, also known as endodontic therapy, is a dental procedure in which the diseased or damaged pulp or nerve is removed and the inside areas (the pulp chamber and root canals) are cleaned, filled and sealed. Root canal is needed when the tooth decay has gotten pass the hard surface of the tooth and reached the pulp or nerve. This causes the nerve to die and cuts of the nutrients and nerve signals which the tooth needs to be healthy.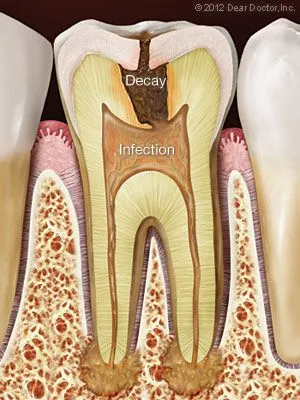 The goal of root canal therapy is to improve the health of your damaged tooth; therefore, it is designed to save the tooth from extraction and prevent the spread of infection. The root canal therapy will leave your tooth clean, uninfected and without any pain. It is usually recommended to place a crown over a tooth that has undergone root canal therapy to protect it from breaking.
At the Center for Cosmetic and Sedation Dentistry, our doctors have received extensive training in performing root canals as well as restoring the treated teeth with crowns. We save our patients time and money by providing all services under one roof. We offer sedation dentistry which allows our patients to rest comfortably during their procedure.
Suffering from tooth pain? You may need a root canal. Call our Center for Cosmetic and Sedation Dentistry for dental help. Call one of our locations today!
---
"After searching for a great dentist, I contacted Center for Cosmetic and Sedation, and immediately was amazed by the great customer service. They scheduled me immediately for a root canal. The service provided by Dr. Kallu and his team was great. Mercedes has a great bubbly personality and Heather, Inna and Stephanie were very helpful, gentle and understanding. I was so impressed, I have my husband changing his dentist."
-Antonia J.